Print inspection systems
DeCoSystem is an international company based in Firenze (Italy) and its products are worldwide recognized as the top-level print inspection systems regarding the entire packaging industry. The goal of the company is the optimization of the printing process by developing artificial vision technologies for the quality control of printed and decorated products.
Their products are always innovative and technologically advanced thanks to high resolution cameras, customized lighting systems and special images analysis algorithms. Compact size and easy installation, simplicity on the use, fast new job setting and amazing accuracy in defect detection are the main characteristics of DeCoSystem inspection systems.
The company counts more than 2000 installations in the field and a unique product line for completeness in all sectors of print inspection.
Spectro print inspection
Inline print inspection of printed containers is easy with Spectro system. Tubes, bottles, containers, glasses, caps, sticks, jars can be inspected during the production with high precision. Our highly qualified engineers are able to design the best solution that fits any integration needs, either the product is plastic, aluminum or glass.
Sentinel web print inspection
The sentinel product family provides a comprehensive solution for quality control for roll-to-roll presses. Whether it is offset label, digital or flexible flexo press, our solution can be easily integrated, and will comply to any speed and resolution demand. Thanks to Sentinel, not only the waste production can be drastically reduced, but your customers will also be more satisfied with reliable quality.
Scandiff Softwares
Scandiff product range is dedicated to the comparison of pdf digital files with the printed final product, thus assuring the design integrity from prepress to the final product. The system manages all common digital image file formats and is able to acquire image data from dedicated acquisition devices as well. Depending on the product type, different versions were developed for the needs of tube and sheet or flexible printing.
Perfecto offset sheet inspection
Designed to be used on a printing press, Perfecto is suitable for packaging cardboard - especially pharmaceutical boxes - or either used to control labels, patient information slips and other top-quality sheets, even printed through several processing steps. A special version dedicated to the inspection of offset decorated metal sheets is available.
Inspector surface inspection
Thanks to its highly modular configuration Inspector can be easily integrated into any film, foil (blown film and flat extruders), paper or nonwovens production line. It is possible to configure the web width and the appropriate illumination for each different application. Defect detection on metalizing machines is also possible.
Condor quality inspection
Condor system is able to inspect print quality of cosmetic bottles on a conveyor already present in the production line. The 100% real-time operation is achieved with multiple high resolution cameras.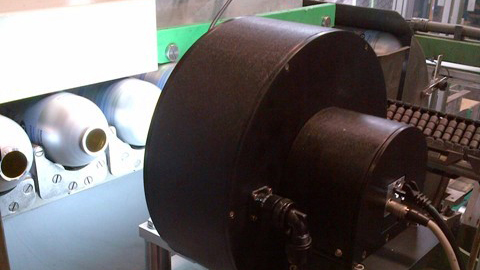 Metrum optical measurements
Metrum is the visual control of aerosol cans, tubes and bottles, where a detection of defects with a full combinations of coatings, curl shapes, compound colors and design can be reliable detected.
Multiplus inspection machine
Multiplus is the 100% universal quality control module for plastic bottles. The system can be used as a stand alone off-line inspection machine or it can be installed at the end of the printing line.
Multilabel finishing machine
Highly productive finishing machine for single lane labels, equipped with colour touch screen, automatic tension control, label/meter/diameter counter and Sentinel print inspection system, optionally numbering inkjet system can be integrated. It is an ideal solution for batch tracking labels of medicine jars and vials.
Contact Us!
Have any questions? You would like us to call you back?
Send us the following blank sheet. Our staff will contact you soon.